Rock Island

Rock Island is the eye of the the flying duck (check out the FPC logo at the top of this web page). In the picture above, taken from the Foster's Pond Dam, it's that small, green dome in the center.
The Eye of the Duck
About an acre in size, Rock Island is the larger of two Town-owned islands in Foster's Pond. (The other island, much smaller, is part of the Foster's Pond Reservation.) For many years, an enterprising family had a two-story summer retreat on Rock Island, complete with a well, an outhouse, and electricity.
But the house - unreachable whenever the ice became too thick to row through but too thin to walk on - fell into disuse, and the property was taken by the Town for non-payment of taxes. After nighttime visitors nearly set the abandoned house ablaze with a carelessly tossed cigarette, the Town had the structure bulldozed, a project which required the contractor to risk deep-sixing his backhoe crossing back and forth over the Pond's sometimes treacherous winter ice.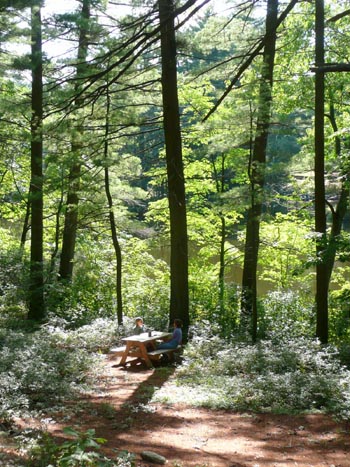 August, 2008: Visitors relax under the island's towering white pines at one of the three picnic tables built by Eagle Scout Nick Vitalle.
The destruction of the house also left behind a hazardous and unsightly pile of rubble. Area residents organized a massive clean-up effort in 2003, removing tons of rubbish by hand and rowboat, one piece at a time. In July, 2007, a small cadre of volunteers returned to saw up the massive foundation beams that had been left behind by the first clean-up crew. Then, in October, 2007, volunteers made a final push to get the remaining junk off the island.
The island has become increasingly popular as a picnic spot. In August, 2008, local scout Nick Vitalle constructed three picnic tables, and several birdhouses, to complete his Eagle Project, providing visitors a tranquil place to relax under the island's white pine trees. Ducks sometimes nest here, and it is not uncommon to see beaver swimming by, particularly late in the day.
In a novel use, a group of Andover High School students chose the island as the site of their do-it-yourself version of the TV hit show, Survivor.
The islet features striking granite outcroppings which give Rock Island its name. The island is now conservation land, under the jurisdiction of the Town's Conservation Commission. Open to the public, the island is most easily reached by canoe or rowboat, launched from the Corporation's "pocket park" adjacent to the Foster's Pond Dam. There are two landing spots, and a trail to the top of the hill where the house once stood.