Dug Pond
Dug Pond is a little jewel of a Town swimming hole.
Back in the late 1960s, it was a gravel pit, mined to provide material for the construction of near-by highways. Then a local developer hit an underground spring, inadvertently turning a neighborhood eyesore into a community treasure.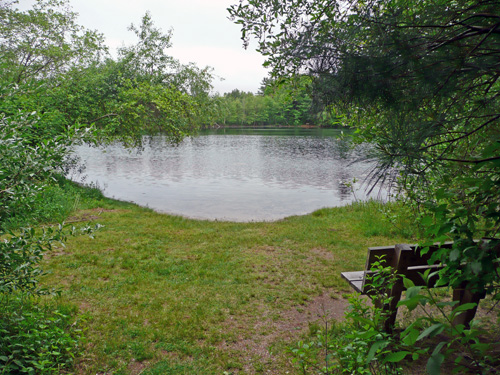 The 3.9-acre basin is separated from Foster's Pond by a narrow berm, which kayakers and canoeists may easily portage (although in periods of low water, navigating into the main part of Foster's Pond can be a bit tricky).
There's a pair of picnic tables and a small beach area with a couple of benches. Of course, there's no lifeguard.
Parking is available on Glenwood Road, near the sign pointing to the Dug Pond Conservation Area. Further down and closer to the water's edge, the road becomes a private way, with no parking permitted. A sign indicates where you can stop to launch a canoe, kayak, or battery-powered boat. Easy paths slope down to the shoreline.