The Foster's Pond Raft
SAFETY REMINDER: There are no lifeguards on Foster's Pond. Swim at your own risk.
Rules of the Raft
1. No alcohol
2. No fishing: Lures and hooks can tangle in the mooring lines, presenting a hazard to swimmers.
3. No amplified music (use headphones) and no loud noise (particularly after dark): Sound travels across the pond, disturbing neighbors and those who seek to enjoy the quiet of nature.
The raft in Foster's Pond has been a community tradition for decades. Located in the Main Pond, the raft affords canoeists and kayakers a quiet spot to disembark, sunbathe, and perhaps take a dip. The raft is beached each winter to protect it from the ravages of drifting ice. Residents and visitors are welcome to use the raft, but are asked to observe the Rules of the Raft (see box, above).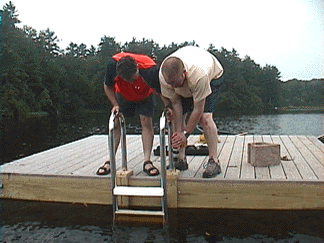 July 4, 2006: Residents Dave Adilman (l.) and Mark Florio install a ladder. Seven years later - on June 30, 2013 - they performed an encore, installing a sturdier one.