'Survivor' Foster's Pond
If you want to vote someone off the island, Andover doesn't offer a lot of choices.
A group of Andover High School students, determined to create and film their own version of the popular TV show Survivor, set their sites on using the only set in town that would allow participants to vote one another off the island. That would pretty much have to be Rock Island, in Foster's Pond, Andover's only Town-owned island.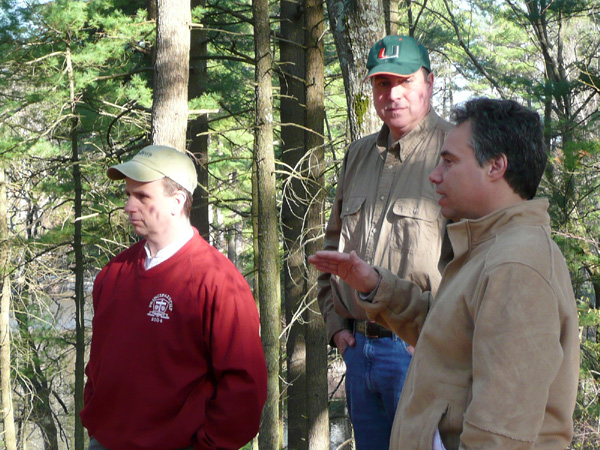 May 1, 2007: (L. to r.) Health Inspector Tom Carbone, Conservation Director Bob Douglas, and Dave Adilman review the "Survivor" set.
Their proposal left Town officials scratching their heads about the wisdom of letting two-dozen kids live out their atavistic (or show-business) fantasies on a craggy, forested island still strewn with rubble from an abandoned house. And what would the neighbors say?
It turns out that the neighbors - Foster's Pond residents who live a short canoe ride away from the proposed scene of the action - thought the plan sounded like a ton of fun. When Town Conservation Director Bob Douglas asked FPC President Steve Cotton to review the students' proposal, Cotton polled homeowners whose properties are within earshot of the island. Their verdict: Go for it!
That still left some logistics to work out. For one thing, the students proposed to dig "deep" holes for use as toilets. By hand? In New England? On an island named for the granite ledge to which a thin layer of topsoil barely clings?
Douglas, Health Inspector Tom Carbone, Foster's Pond Road resident Dave Adilman, and Cotton walked the site April 30. The Town officials indicated they would require the participants to use buckets, carting all waste off the island.
The contestants and their film crew were scheduled to arrive on the island the afternoon of May 3, camp their for two nights, and leave late in the evening of May 5.
The plan was Page 1 news for the Eagle-Tribune on April 30.