Minutes: August 19, 2017
Foster's Pond Corporation
August 19, 2017
1 White Oak Drive, Andover
3:00 p.m. to 3:30 p.m.
About 50 people attended the 2017 summer picnic and meeting of the Foster's Pond Corporation. It was the 13th annual FPC picnic.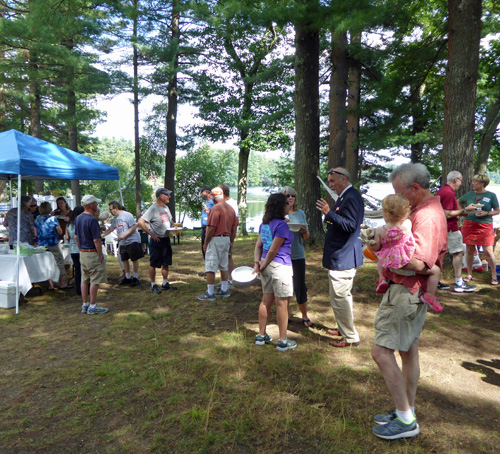 The event was held at the home of Arno and Sandra Minkkenin, 1 White Oak Drive.
FPC President Steve Cotton called the formal meeting to order at 3:00 p.m. He thanked Sandy and Arno, the officers and directors of the Corporation, and the numerous area residents who have volunteered on behalf of the Foster's Pond community.
Dave Brown gave the Treasurer's Report.
Steve reported that the Dam, after its 5-year safety inspection in December, had been officially found to be in "satisfactory" condition.
Steve also reported that hydro-raking in April had been conducted successfully. He said that this was the first time since hydro-raking on the Pond had started in 1992 that we had it done in the Spring, and that because of higher water levels it had proved easier than Fall hydro-raking.
Steve also reported that the Pond was treated for spiny naiad on July 31, and that it had been treated for blue green algae on August 9. He thanked volunteers who have been taking readings for water clarity looking for warning signs of an algae bloom.
Steve also reported that the FPC Board had commissioned a Watershed-Based Plan to determine whether there were preventive measures that can be taken to ward off toxic algae blooms. He described the plan, and introduced Board Member Amy Janovsky, who is co-chairing the Corporation's newly-formed Watershed Management Committee. Amy described raingardens, which individual homeowners can fashion to cut down on the flow of phosphorous into the Pond. She invited volunteers to contact her for more information.
The meeting was adjourned at 3:30 p.m.