Don't Miss the Annual Meeting March 21
The 2018 Annual Meeting of the Foster's Pond Corporation will be held Wednesday, March 21, at 7 p.m., in Memorial Hall Library. This year's presentation: "The Shape of Water (In Foster's Pond)." Our presenters will include Bob Hartzel, former Coordinator of the State's Lakes and Ponds Program and one of the leading water resource management experts in Massachusetts. The FPC last year engaged Bob to create a watershed management plan for Foster's Pond using a brand-new, first-in-the-nation model he developed for MassDEP. In addition, our panel will feature the three Andover officials whose expertise is most critical to the protection of Foster's Pond and its watershed: Health Director Tom Carbone; Conservation Director Bob Douglas; and Deputy Public Works Director/Highway Superintendent Marc Fournier. Plan to come - and bring your questions! The public is cordially invited.
This program is a collaboration of the FPC and Memorial Hall Library. To keep the business formalities brief, please review the FY2017 Treasurer's Report and the minutes of the March 15, 2017 Annual Meeting and August 19, 2017 Summer Meeting in advance, as they will not be read at the meeting.
Hydro-Raking 2018: Submit Contracts and a Check by March 24
Shoreline property owners who wish to have hydro-raking performed this Spring must submit two copies of a signed contract and a check for the requested work by March 24. To download instructions and forms, click here.
Note to Old Man Winter: Enough, Already!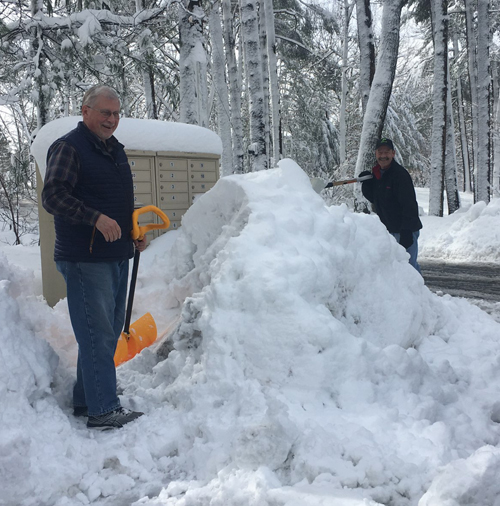 March 14: Foster's Pond Road residents Al Barber and Rick Davis dig out the community mailboxes at Foster's Pond & Pomeroy Roads after the third snowstorm of the month. Photo by David Adilman.
Consultant Recommends Spot-Treatments for Fanwort and Spiny Naiad
The Corporation's lake management consultant has recommended spot-treating two invasive weeds, fanwort and spiny naiad, this Summer. The recommendation is one of several contained in a 41-page report on the tenth vegetation survey the FPC has commissioned since beginning our lake management program in 2004. For more information and a map, click here.
Watershed Study Looks to Control Algae By Curbing Nutrients Flowing Into the Pond
We've treated Foster's Pond for toxic algae four out of the last five years. Can anything be done to prevent algae blooms? To find out, we commissioned a state-of-the-art study of the Foster's Pond watershed, using the latest computer modeling, on-line databases, and newly-assembled information. Our consultants delivered a Watershed-Based Plan for reducing the primary "limiting nutrient" that triggers algae growth. The first step is to give citizens of the watershed the information you need on how to protect the Pond. Start here.
Pond Ebbs to Winter Level, But Beavers Stage Nightly Protests
Foster's Pond has been drawn down for the winter, its water level about 18 inches below the lip of the dam's twelve-foot-wide spillway. The last stoplog was removed from the adjacent sluiceway on November 25. The Pond's beaver community, however, doesn't think much of the annual drawdown, which protects the dam by making room for accumulated snow and ice to melt without overtopping the 160-year-old earthen structure. Almost every night, beavers denning near the dam cram branches and mud into the sluiceway, seeking to stop the outflow. For more details and pictures, click here.
Make Your 2018 Donation Today!
We can't protect Foster's Pond and our historic dam without your help. Check out our Honor Roll of 2017 Foster's Pond supporters. Give now, so we can inscribe your name on our 2018 Honor Roll (coming soon). Earn the coveted

, identifying you as an especially generous donor! Please, go to our donation page right now and give on-line or by mail. Your contribution is tax-deductible. Thank you!
Contribute to the FPC When You Shop Amazon (It Won't Cost You a Penny More)
Amazon has introduced a charitable-giving program that lets you make donations to the Foster's Pond Corporation without spending anything beyond the price of what you purchase. Amazon's charitable foundation will simply set aside 0.5% of the purchase price and contribute that to the FPC. All you have to do is go through the AmazonSmile portal. Your Amazon account information stays the same, and everything available on Amazon.com is also available on AmazonSmile, at the same price. To get started, click here.
Receive Foster's Pond Updates
Get the latest news about Foster's Pond. Want to be alerted when the Pond will be closed for a weed treatment? Or that an algae bloom has been detected? Or if there's an upcoming event? Then sign up to get Foster's Pond e-mail Updates. Updates are sent out about once a month. They will keep you informed without cluttering your in-box. And we don't share your e-mail address with anyone. Just send us an e-mail at info@fosterspond.org with the subject line "Sign me up".