Minutes: September 6, 2014
Foster's Pond Corporation
September 6, 2014
25 Pomeroy Road, Andover
3:00 p.m. to 3:15 p.m.
Despite predictions of ominous weather, about 70 people attended the 2014 summer picnic and meeting of the Foster's Pond Corporation. It was the 10th annual FPC picnic.
The event was held at the home of Dot Tyler, 25 Pomeroy Road.
A brief shower sent attendees huddling on Dot's front porch,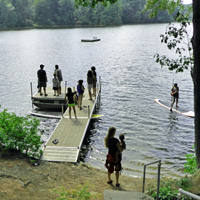 but the rain swept through in less than ten minutes, and the remainder of the afternoon was bright and beautiful, with a refreshing breeze providing relief from the heat and humidity of a perfect late-summer afternoon.
While kids splashed in the Pond and practiced on a pair of paddle boards, their parents noshed on a bounty of pot-luck dishes, occasionally looking to the sky as reports of a tornado warning circulated or thunder rumbled in the distance. But the heavy weather held off until well after the party ended.
FPC President Steve Cotton called the formal meeting to order at 3:00 p.m. He thanked Dot and the numerous area residents who have volunteered on behalf of the Foster's Pond community.
Dave Brown gave the Treasurer's Report.
Steve reported that volunteers had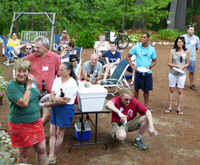 kept track of algae densities in the Pond, and that treatment had not been needed this year. He also reported that a comprehensive vegetation survey in August had confirmed that we would need to treat the Pond for fanwort in 2015. He said that the dam would need further work this Fall. He also reported that this year AVIS would allow bow hunting for deer on the Wilkinson Reservation, and that the Town would allow bow hunting on its portion of the Foster's Pond Reservation. He said that, after surveying residents in the Willard Circle neighborhood, the FPC Board of Directors had voted not to allow bow hunting on the FPC portion of the Foster's Pond Reservation.
He asked residents of Foster's Pond Road and Pomeroy Road to let Dot Tyler know if they were interested in helping to help beautification of the little traffic island at the intersection of Foster's Pond Road and Rattlesnake Hill Road.
The meeting was adjourned at 3:20 p.m.