Minutes: August 8, 2015
Foster's Pond Corporation
August 8, 2015
2 White Oak Drive, Andover
3:00 p.m. to 3:10 p.m.
Under sunny skies, about 50 people attended the 2015 summer picnic and meeting of the Foster's Pond Corporation. It was the 11th annual FPC picnic.
The event was held at the home of John and Judy Lugus, 2 White Oak Drive.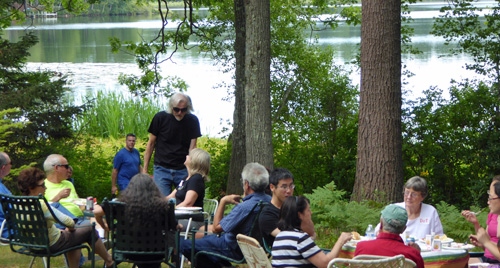 FPC President Steve Cotton called the formal meeting to order at 3:00 p.m. He thanked John and Judy and the numerous area residents who have volunteered on behalf of the Foster's Pond community.
Dave Brown gave the Treasurer's Report.
Steve reported that volunteers in late April and early May had made more repairs on the dam. He said that they had dug out the area of a small but persistent leak and put in two tons of a special clay, then spread several tons of sand and crushed stone to buttress the crest. He said that, once again, special thanks were owed to Scott Fumicello for all his work on the dam.
Steve also reported that the Pond had been treated successfully for fanwort, with the first herbicidal application on May 4 and booster treatments on May 27 and July 10.
He reported that the Pond had, in addition, been treated for blue-green algae on July 31, as concentrations in some parts of the Pond approached unhealthful levels.
The meeting was adjourned at 3:10 p.m.