Minutes: August 18, 2007
Foster's Pond Corporation
August 18, 2007
15 Foster's Pond Road, Andover
3:10p.m. to 3:25 p.m.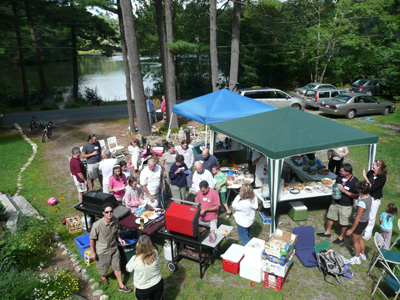 Under sunny skies, with a gusty wind occasionally billowing the food tents, about 75 people attended the 2007 summer picnic and meeting of the Foster's Pond Corporation.
They came by car, foot, and canoe, from around the Pond and beyond. Kids and dogs romped on the grass, as hot dogs and burgers sizzled on two grills.
The afternoon-long event was held at the home of Dave Adilman and Lisa Walters at 15 Foster's Pond Road.
FPC President Steve Cotton called the formal meeting to order at 3:10 p.m. After thanking Dave and Lisa, he noted that their beautiful house offered great views of two major achievements of the FPC this year: the weed treatment of the Channel and the restoration of the dam.
Cotton thanked a long list of volunteers for their contributions to the Corporation during 2007. He then asked Scott Fumicello to come to the front. "In addition to being our friend and neighbor," said Cotton, "Scott is a landscaper and mason who has unstintingly donated hours and hours of his time, his expertise, backbreaking labor, and equipment to turn our engineer's instructions into a thing of beauty at the dam. The dam has become an asset not just for this community but for the entire Town, and that could not have happened without Scott."
On behalf of the FPC, Cotton presented Fumicello a plaque inscribed: "In grateful recognition of your dedication and artistry in restoring the Foster's Pond Dam." There was a hearty round of applause.
Dave Brown gave the Treasurer's Report.
Cotton announced preliminary plans for hydro-raking in the Fall. Dave Adilman announced another massive clean-up of Rock Island on October 13. Cotton said there would be a survey of the Main Pond in September to determine the extent that fanwort has re-emerged. He said the next Annual Meeting would be in January.
Special thanks to Judy Lugus for coordinating the picnic.
The meeting was adjourned at 3:25 p.m.